How to make a mini-vacation in a place where you wouldn't think such a thing is possible:
1. Take the time to go to a nice restaurant in the area. Fast food is fine when you're on the road, but restaurants can make memories. Absent that, make a memory by just showing proof that you were there.
Here we are at The Chop House in High Point, NC. Steven likes steak, so why not? It was delicious, by the way, and fancy! They even put a purple flower on my plate:
(How did they manage to make my dinner match my hair?)
2. If the hotel has a pool, stop by, even if it's just for a few minutes. It's always more fun when you say you went swimming.
Did I mention? Always bring your knitting. You'd be surprised how much you can accomplish in hundreds of miles.
3. Enjoy a leisurely breakfast watching cartoons, if for no other reason than to block out the horrid news of that particular day: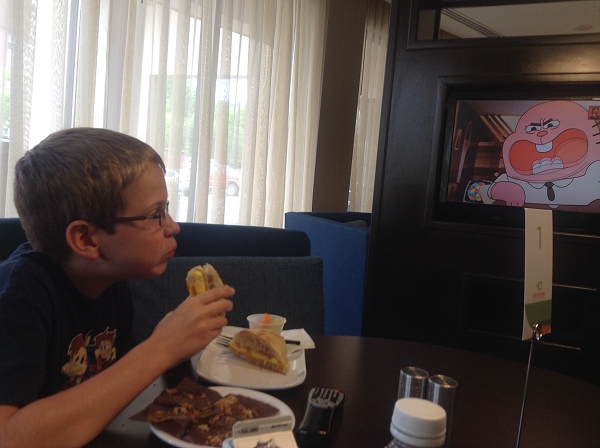 4. Find your kindred spirits, go where they are, and embrace them. We can't hide the fact that we're nerds. We argue amongst ourselves that there are varying degrees of nerdiness, and that some in our family can raise the Geek Flag way higher than some others. But, we can't escape it. It's who we are, and we're proud. So imagine finding out that Greensboro is actually quite the center for Geek Culture. We found a fun coffee house where "our people" hang: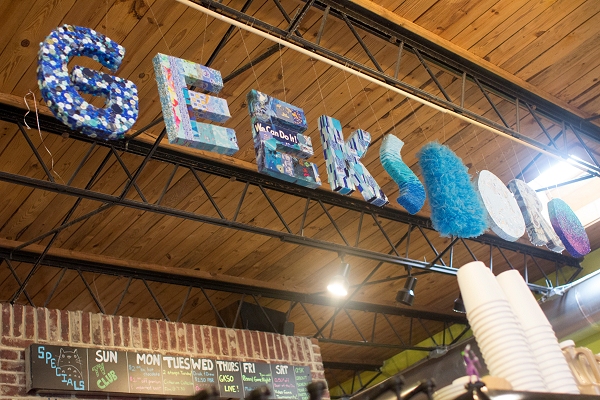 Find your people: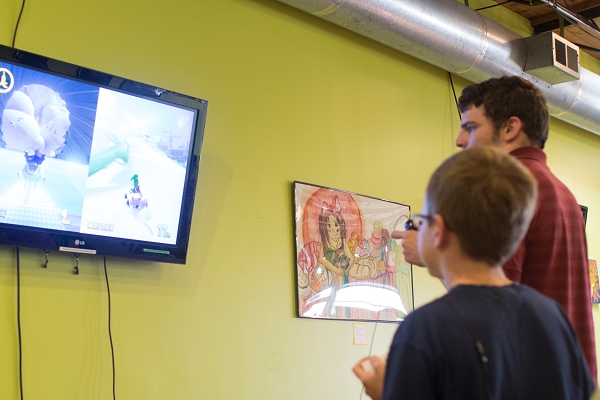 Partake of the cultural foods: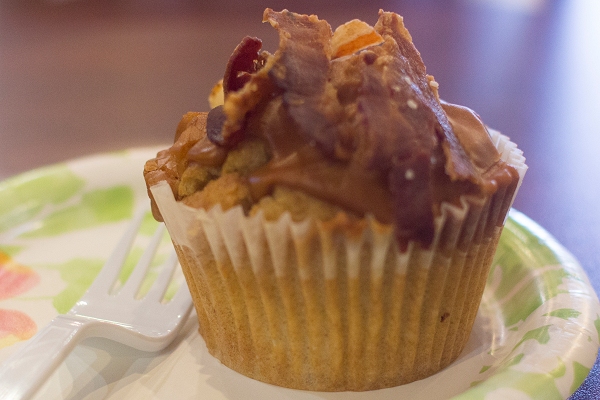 Can someone explain to me the geek culture/bacon connection? I don't quite get it. But, when we got to the coffee house, and saw they had caramel bacon cupcakes in the dessert case, we had to try one! Or, at least I did. It was surprisingly yummy… it was an apple spice cake with salted caramel frosting and bacon on top. Not that I would eat this every day, but when in the land of geeks…
Wishing we could have been there for game night: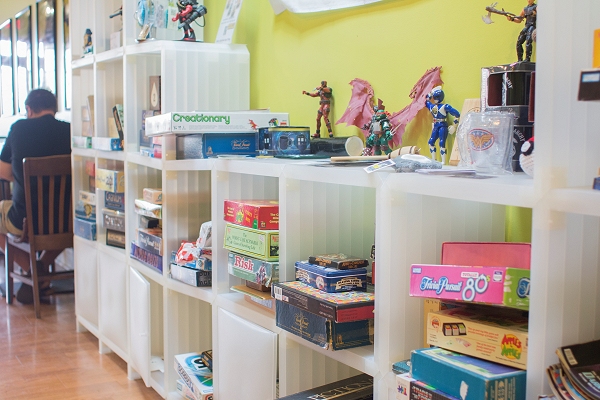 And don't forget to take a family photo with the TARDIS on the way out!
5. Keep your eyes open, because when you're headed to one specific place, you never know what else you'll find along the way. In our case, there was an amazing comic book store right next to the coffee house, Acme Comics:
While we were in the comic book store, some kids from a local comic book day camp stopped in. They were able to browse and ask questions. One kid asked what was the biggest difference between comics of today, and vintage comics. The owner replied that today, comics are mostly produced by one person or a small group, using a computer, and that in the "olden days" it was a multi-step process involving lots of people working by hand. There was a book in the store that explained this process.
John and Steven found a comic book that they couldn't pass up, which was a mashup of Doctor Who and Star Trek, the Next Generation. I've always heard that you're not supposed to mess with the space-time continuum this way, but what do I know?
6. If you're a knitter, follow the smell of yarn fumes. It will lead to magical places: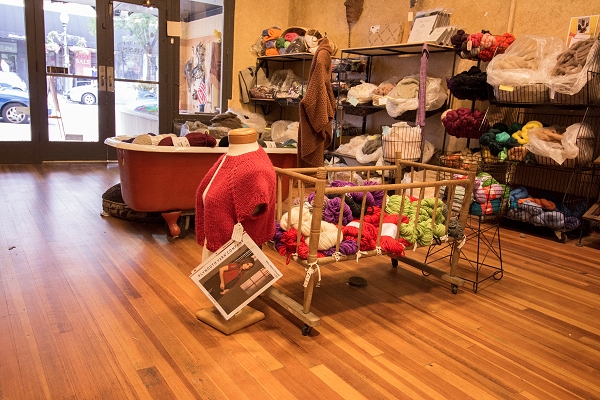 In Downtown Greensboro there is a thriving artist district, full of galleries and quaint shops and restaurants. This is where one would find Gate City Yarns, which contains a wide variety of yarns and spinning fibers. It is a lovely, comfortable shop with helpful staff and comfy couches, a spacious classroom in back (I peeked) and an atmosphere that just makes you want to hang out a while. I visited the shop on our trip to Greensboro last year, and it was well worth the return trip. Of course, if you're not a knitter or crocheter or spinner, then waiting around while your loved one shops isn't really a hardship there:
7. Find a restaurant with character to have lunch, instead of eating fast food, and enjoy it.
The nice lady at the yarn store recommended a tavern called Liberty Oak for lunch, and it was yummy! It was a nice place that offered outdoor seating. It was a nice day and not too hot, so why not? Here we are: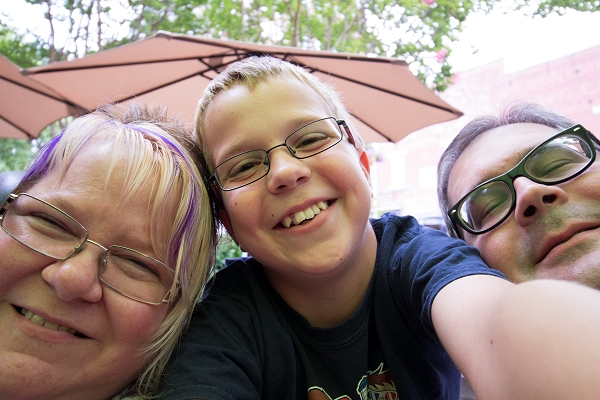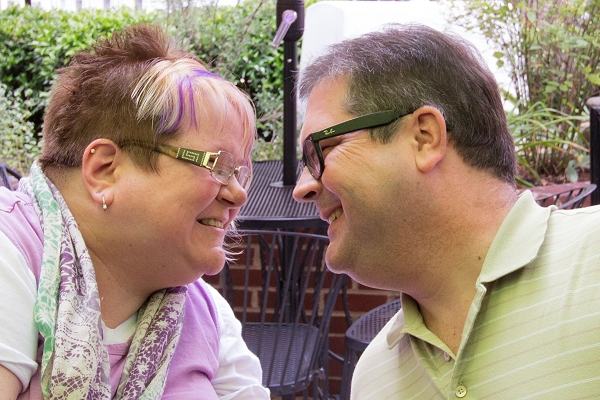 I have to say I had one of the best sandwiches I'd ever eaten: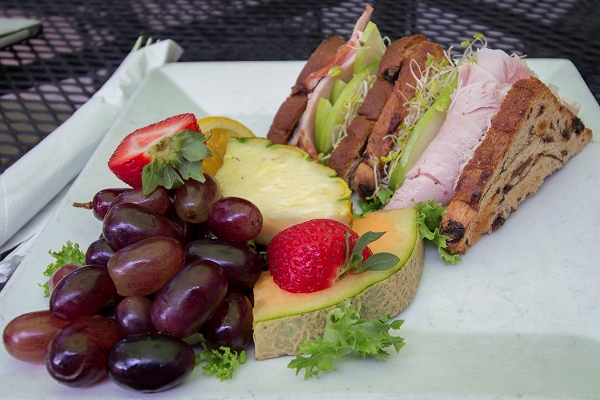 The sandwich consisted of smoked turkey, Granny Smith apples, sprouts, and bleu cheese/walnut spread on toasted raisin bread. And a lovely assortment of fresh fruit. My mouth is still watering; it was delicious!
8. Don't forget the real reason you headed to a place like Greensboro to start with. For us, it was that our daughter was participating in the UNC Greensboro Summer Music Camp, and there was a recital on the last day, that we did not want to miss. Diana was first chair flute this year, and had the honor of performing two solos, one on flute, and the other on piccolo. Here is one piece in which Diana had a solo. It's called "Song for Lyndsay." As you're looking at the stage, Diana is to the right of the conductor with the bun in her hair:
Here are some other images from that wonderful event:
[justified_image_grid ids="6896,6897,6882,6866,6867,6868,6869,6870,6884,6879,6880,6881″]

As an aside, if you have a kid who participates in instrumental music, vocal music, or piano, we cannot recommend UNC Greensboro's Summer Music Camp highly enough. The experience is superb, the music is fantastic, and your kid will come away with an experience to remember forever. We are so proud that Diana was able to participate for two years.
9. When in the South, you must eat at Cracker Barrel. The Old Country Store is full of entertaining things:
[justified_image_grid ids="6904,6905,6906,6907,6908,6909,6910,6911,6912,6913,6915,6916,6917″]

As you can see, we crammed a LOT into our little trip to Greensboro. Maybe someday soon, we'll go back and actually set a spell, as my grandfather would have said. Maybe we'll even stay awhile. We kinda fit right in. 🙂