On Friday, I received a new knitting gadget in the mail. No, that's not true, really. The item I received is actually quite old, and best as I can tell, never used, or only very gently used. It is a Hobby-Knit I-cord machine, and it was manufactured in about 1949. Somehow a knitting vendor received some remaining new old stock of this device, and I've been eying it for a while. I don't know why, but I-cord fascinates me, and I have collected all sorts of devices for making knitted cord for years. Yes, I know that I-cord can be made with knitting needles, by hand. But I love the cranky machines, antique spools, and all sorts of gadgets that have been created with the idea of making a simple knitted tube.
Here's a photo of the machine with all of its parts, including the original manual:
And here it is, all set up and ready for knitting.
Here's a closeup of the knitting mechanism:
Here's a closeup of the original label on the machine… it looks like new! The label says, "Hobby-Knit, Pat. App. for Montello Products Co., Montello, Wis." Even the abbreviation conventions are suggestive of its age.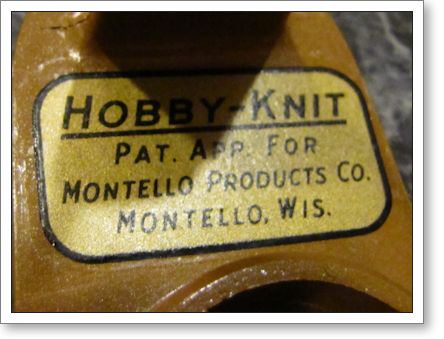 My friend Rachel and I made a short video of the machine in action. Check it out; it actually works!
We didn't use the yarn spool in our demonstration because we wanted to try knitting straight from the yarn ball. It works, but we found that we have to put additional tension on the yarn coming from the ball with a free hand, as shown in our video. Here's a closeup of the yarn spool:
And finally, here's a photo of the cord as it's coming out of the bottom of the machine:
The resulting cord is a finely knit 6-stitch beauty, which I think would be the perfect size for jewelry making and other things requiring a not-too-thick cord. Isn't it lovely?
The truth for me is that I'm not sure how often I will use this machine. I'm betting I will use it for some jewelry making from time to time, but so far I find the machine fussy to set up and work with. I'm sure I'll get better with practice, but there are other machines I have that I also enjoy but are a bit easier for me. That said, there's something magical about this little beauty. It gives me a feeling of nostalgia to use it. I wonder how many people in the past actually might have had one of these and what they made with it. I'm thrilled that this machine is part of my collection. It makes beautiful cords, and makes me feel like I have something special.